Gridded observational data
Submitted by Sven Kotlarski on Wed, 2013-05-15 15:56
This Wiki page contains information regarding the setup of gridded observational reference data for VALUE
PARAMETERS, GRID, PERIOD, UNITS, FORMAT

Core parameters: Tmean and P at daily resolution (if Tmean not available it might be replaced by Tmin and Tmax)

Grid: Sub-grid (depending on region) of the common EURO-CORDEX rotated 0.11° grid (resolution of approx. 12 km)
Period: 1979-now (if possible 1958-now)
Units: T in [°C], P in [mm/day] (preferred; alternative: T in [K], P in [kg/m-2 s-1])
Missing value: -9999.

Format: NetCDF
REGIONS

Core: Norway, Spain, Austria, Emilia-Romagna, France, Poland
Annex (considered for later addition): Sweden (backup for Norway), Carpathians (if available), Switzerland (backup for Austria)
Note: Grided data for France and Poland will be hosted on the provider's website (no download via VALUE server). For Norway and Austria, the spatial interpolation of the observational data to the rotated EURO-CORDEX 0.11° grid has to be carried out by ourselves, for the other regions the data will already be provided on that grid.
RESPONSIBLE PERSONS
Norway -> Kotlarski
Spain -> Brands
Austria -> Kotlarski
Emilia-Romagna -> Pavan
France -> Pagé
Poland -> Jaczewski & Pianko
Sweden (not core) -> Bosshard
Switzerland (not core) -> Kotlarski
ECA&D stations -> Brands, Gutiérrez
INTERPOLATION
In cases where a high-resolution national grid has to be interpolated onto the EURO-CORDEX 0.11° grid (Norway, Austria), please use a conservative interpolation procedure.For the moment, do not apply a wet-day threshold.Please use the same interpolation technique for the grid cell orography (necessary for elevation correction of tmperature later on).
DEFINITION OF SUB-REGIONS
The data for an individual region does not have to provided on the entire EURO-CORDEX grid (covering the whole of Europe), but only for a rectangular sub-domain of it. A missing value of -9999. should be assigned to grid cells not covered by the national gridded data. Please find below the region definitions. xmin, xmax, ymin and ymax refer to the grid cell indices with respect to the standrad EURO-CORDEX 0.11° grid (424x412 grid cells). For each sub-region you'll find a NetCDF-file containing the real world as well as the rotated lat-lon coordinates of the sub-regional grid. Please use these coordinates as target when interpolating from a high-resolution national grid.
1) NORWAY
xmin=193, xmax=305, ymin=280, ymax=404
NetCDF coordinate file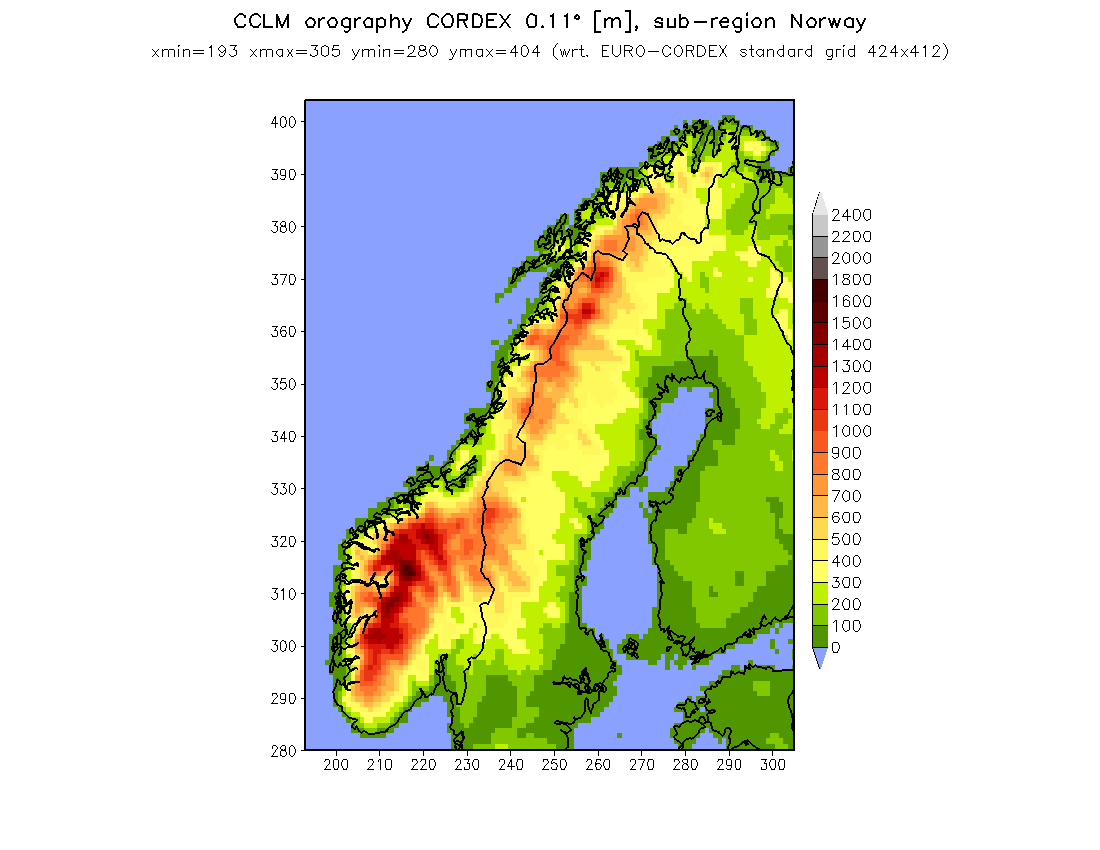 2) AUSTRIA
xmin=204, xmax=256, ymin=173, ymax=200
NetCDF coordinate file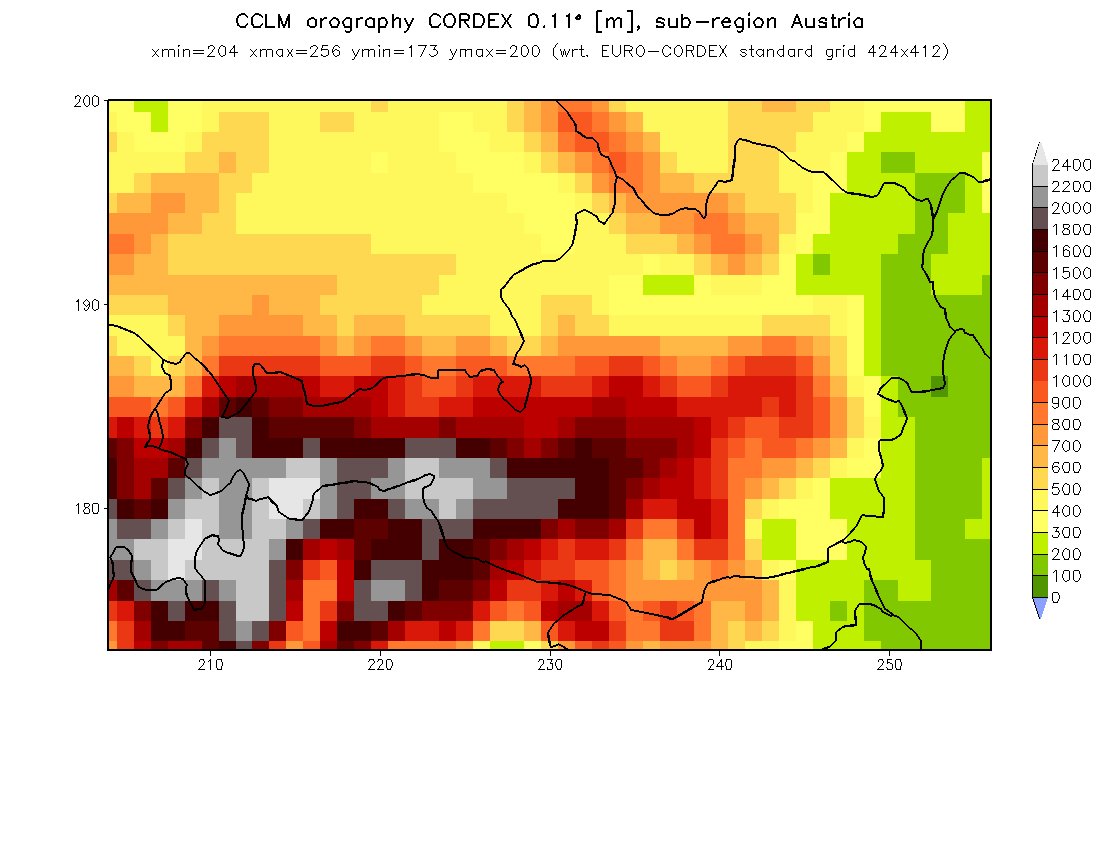 3) FRANCE
xmin=117, xmax=204, ymin=128, ymax=228
NetCDF coordinate file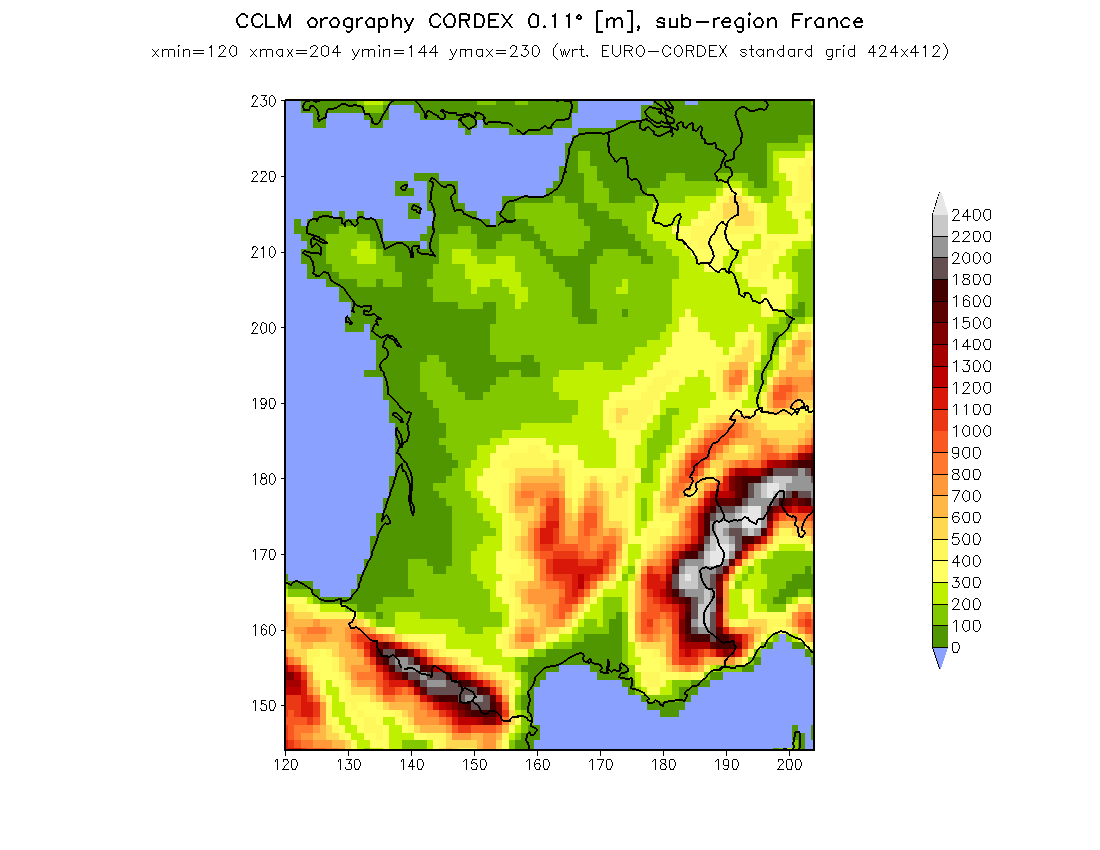 4) POLAND

xmin=233, xmax=298, ymin=196, ymax=257
NetCDF coordinate file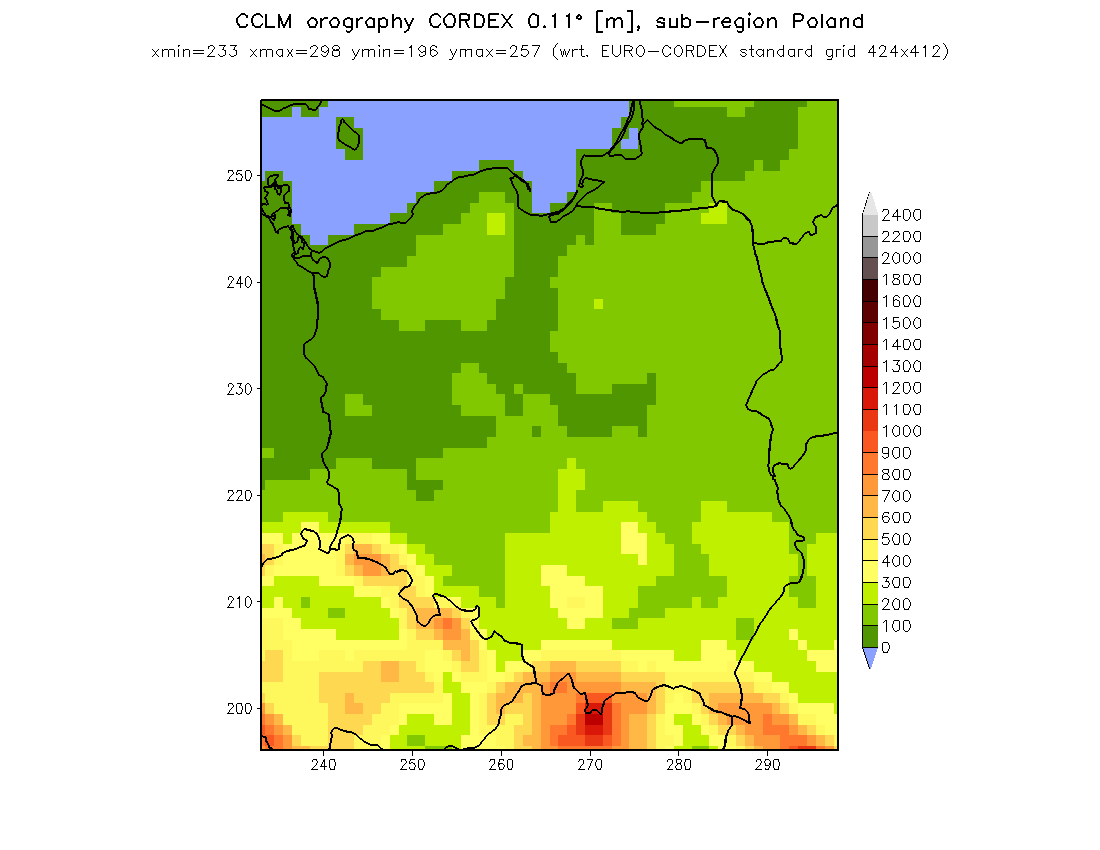 5) SPAIN

xmin=60, xmax=164, ymin=104, ymax=183
NetCDF coordinate file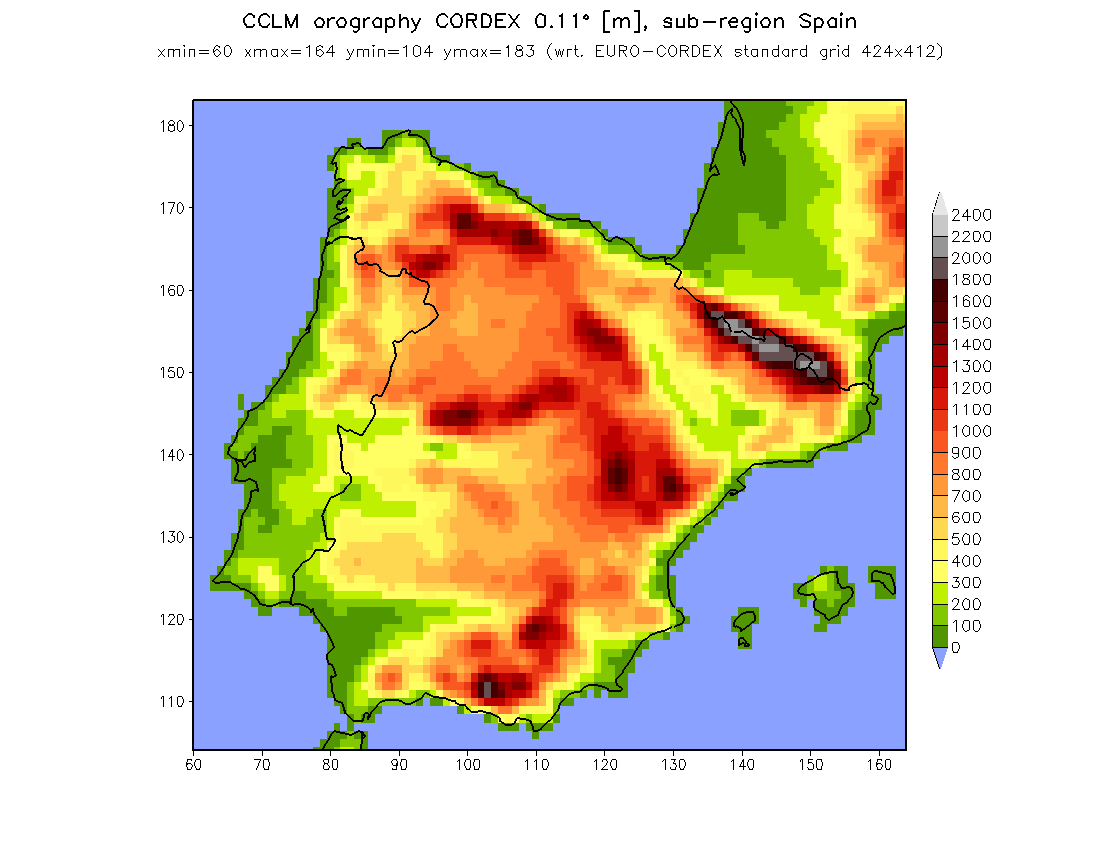 6) EMILIA-ROMAGNA

xmin=184, xmax=234, ymin=145, ymax=184
NetCDF coordinate file